Directory
About BigBendKids.com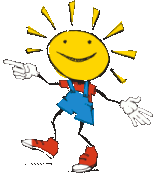 We spent the long holiday weekend at Big Bend National Park in south west Texas. I'm not sure what I was expecting, but it far surpassed any expectations I had.
We camped in the Chisos Basin Campground. Up in the mountains it is at least 10 degrees cooler than closer to the river. Our first full day at the park we set out on a 3 mile hike (round trip) with the kids. The trail head for the "Window" trail was near our camp site and took us through some beautiful rocky terrain. I fell in love with a yellow agave plant. I learned that they grow between 20 and 50 years and only bloom once.
After our hike we took a drive to see the Rio Grande Village campsites. These are at the south east edge of the park, and are apparently more popular to camp at in the winter months. (It was very hot when we were there.) But we walked along the boardwalk and saw several turtles and fish swimming in the water.
On another day we ventured to the south west edge of the park, to hike on the Santa Elena Canyon Trail. This hike took us along the edge of the Rio Grande. Just across the river there is Mexico.
While the map said it was an easy hike it was hot and Littlest was worn out. He and I waited in a shady spot while the bigger boys and Dad finished the hike.
While we were in the area we also spent a day driving to Marfa and to see the McDonald Observatory (which is near Fort Davis). At the observatory we got to see the Hobby-Eberyly Telescope and learn about it. Since we were there during the day the dome was closed. We weren't really sure what to expect in Marfa, but it turned out to be a really fun place. We had lunch there at a great restaurant and then we wandered around the town. And while we didn't see any stars at the observatory I was able to find one in Marfa. It just happened that we were in Marfa during the weekend of the Marfa Film Festival. And I got to meet America Ferrera who was there screening a film.
So go camping and see some stars!
Written by Julie Grimmett
Julie is Coco and Cocoa